Our Process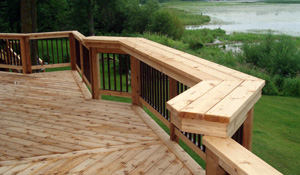 At John Ford Construction, we employ a four-stage process to ensure that we surpass your expectations from start to finish.
One of our many distinct advantages is that – while our approach is based on open and honest communication – we don't needlessly prolong the project. We've found that customers appreciate regular project updates, but that they also appreciate a project that moves forward quickly and efficiently.
In-Home Consultation, Estimate and Design Overview – This is the first stage in the process, and perhaps the most important. Your first and only point of contact will always be John Ford, owner and master carpenter of John Ford Construction, and this initial meeting will allow you to express your thoughts and ideas, as well as your areas of concern. The meeting will end with you having heard our best recommendations, and having a reliable estimate in your hands.
Design Review and Modifications – Here, we spend time reviewing the project design with you, taking time to hear your thoughts and ideas. Also, we again review the timeline for the project.
Materials Procurement, Construction and Ongoing Evaluation – This is the actual building stage, where we procure the necessary building materials and the hammers begin swinging. As with each stage, we're sure to stay in contact with you to ensure that you're comfortable and informed.
Completed Project Review and Evaluation – As we near completion of the project, we conduct a "walk around" of the project with you, pointing out items or areas of interest. We'll give you a specific "all done" date, and answer any questions you might have. And if you have concerns, we want to hear them.