Deck for a Soldier
Giving back to the community.

Deck for a Soldier is a program that John Ford Construction has proudly participated in since the event came to Minnesota in 2011. This annual event was founded by the North American Deck and Railing Association (NADRA) in 2007, and is a community effort that expresses appreciation for the service and dedication of the men and women of our armed forces. Deck for a Soldier expanded from one recipient per year to four in 2011, and John Ford Construction was privileged to donate to the deserving Minnesota soldier.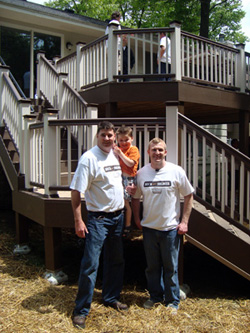 2011 Minnesota Recipient
Minnesota National Guard Staff Sergeant Todd Everson of Prior Lake, Minnesota was thrilled to be the recipient of a new professionally designed and built deck in May of 2011. In just seven days, John Ford Construction, along with O'Noonan Construction, Decks by Joe and Jigsaw Builders built a beautiful 18' x 15' maintenance-free deck for Everson.
To learn more about John Ford Construction's affiliation with NADRA click here, and to learn more about the Deck for a Soldier program visit the NADRA blog at http://www.nadra.org/consumers/D4S/D4S_Home.html.